MICHI S5 stereopäätevahvistin tuottaa kaiuttimillesi puhdasta tehoa enemmän kuin riittävästi. Jatkuva teho 2 x 500W 8ohm ja 2 x 800W 4ohm kuormaan.
Kaksoismonorakenne, erittäin järeät virtalähteet erikseen molemmille kanaville. Virtalähdetoteutus on tehtaan omaa käsialaa.
Erinomainen bassotoisto – voimaa ja kontrollia yhtäaikaa tarjolla kaiuttimelle kuin kaiuttimelle. Etulevyn näyttö valittavissa VU – Spectrum. Rhodium-pinnoitetut kaiutinterminaalit.
Paino 59,9kg.
2 x 500 Watts of robust power
Class AB amplifier design
Patented British bulk storage capacitors
Massive power supply using Dual Toroidal Transformers
Balanced XLR inputs
The Michi S5 Stereo Amplifier delivers 500 watts per channel into 8 ohms loads with best in class audio performance. The dual monoblock design includes twin, oversized, in-house manufactured toroidal transformers for exceptional bass energy while maintaining control and precision of the finest detail all packaged in an elegant design.
The Michi S5 Stereo Power Amplifier is a best in class linear amplifier delivering 500 watts of Class AB power in 8 ohm and over 800 watts to 4 ohm loads. The dual monoblock architecture is equipped with twin, custom engineered oversized, in-house manufactured 2,200 Volt Amp toroidal transformers in individual epoxy filled enclosures eliminating noise and vibration. A bank of 4 British patented bulk storage capacitors totaling 188,000uF delivers exceptional bass energy while maintaining precise detail and control to 32 high current output transistors ensuring effortless accuracy of the timing and rhythm under even the most difficult of load conditions.
Audio performance must be engineered from product concept through production. This is evidenced in the S5 as the result of countless hours of engineering design reviews, critical component evaluation and sonic tuning. Accuracy at its best while delivering on a promise to ensure the audio provides entertainment deserving of the Michi logo.
An elegant industrial design puts the finishing touch on this amplifier with a font panel color display and Michi exclusive custom high current 5-way rhodium plated binding posts. The included remote control provides easy setup and operation with RS232 and Ethernet connections supporting all popular control systems.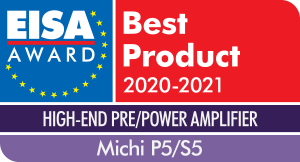 EISA-VOITTAJA 2020-2021
Rotel's high-end sub-brand is back, some three decades after its first appearance, and the Michi P5 control amplifier and S5 power amp bring a welcome breath of weight, scale and entirely natural music-making to the high-end arena. With cool black looks and stunning build quality, the duo displays a wide-ranging ability across a broad spectrum of musical genres. Michi is all about the emotion and spirit of the music, delivered on an entirely human scale. The amps are flexible too, the preamp offering a wide range of digital and analogue inputs, and the quality is assured by painstaking hand assembly, from the basic components upwards. It's a stunning return.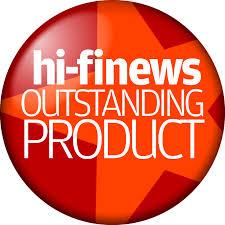 " Michi is all about the emotion and spirit of the music, delivered on an entirely human scale. "  – Michi P5 & S5 –  HI-FI NEWS (May 2020)

" The S5 is an engineering and musical triumph. "  STEREOPHILE (July 2022)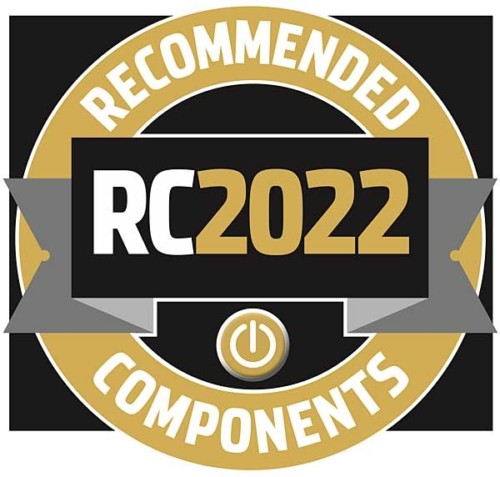 " Recommended Components 2022 Award "  STEREOPHILE