MICHI P5 etuvahvistin on todella upea laitteiston sydän ääneltään, tyyliltään ja viimeistelytltään. Vaativan musiikkinautiskelijan valinta.
Runsaasti liitäntöjä, analogisena ja digitaalisena. Helppo käytettävyys, todella kaunis silmälle, ja äänenlaadullisesti tinkimätön . Pitää sisällään mm. MM/MC phonoetuasteen, premium-tasoisen AKM 32-bit/768kHz DAC, jossa tuki MQA-äänelle. Täysin balansoitu rakenne, liitännät balansoituna XLR-liittimin tai balansoimattomana RCA-liittimin.
AKM premium 32-bit/768kHz Digital to Analog Converter
Moving Coil and Moving Magnet phono stage input
Bluetooth with aptX and AAC
Balanced XLR inputs and outputs
Supports MQA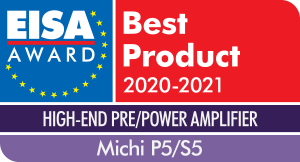 EISA-VOITTAJA 2020-2021
Rotel's high-end sub-brand is back, some three decades after its first appearance, and the Michi P5 control amplifier and S5 power amp bring a welcome breath of weight, scale and entirely natural music-making to the high-end arena. With cool black looks and stunning build quality, the duo displays a wide-ranging ability across a broad spectrum of musical genres. Michi is all about the emotion and spirit of the music, delivered on an entirely human scale. The amps are flexible too, the preamp offering a wide range of digital and analogue inputs, and the quality is assured by painstaking hand assembly, from the basic components upwards. It's a stunning return.

" The P5 created a deep soundstage with excellent spatial qualities. It performed with great clarity, good tone and dynamics, and always left me satisfied and wanting to hear more. "  STEREOPHILE (Nov 2020)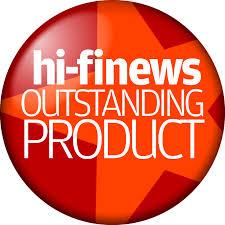 " Michi is all about the emotion and spirit of the music, delivered on an entirely human scale. "  – Michi P5 & S5 –  HI-FI NEWS (May 2020)