Huippuluokan kuulokevahvistin & DAC – ja laadukas integroitu vahvistin kaupan päälle. Tai laatuvahvistin – ja kaupan päälle huipputason kuulokevahvistin ja DAC. Kuinka päin vaan.
12-kiloinen kuulokevahvistin sinulle, joka otat kuulokekuuntelun tosissasi. Mukana myös 2x50W pääteaste kaiuttimille. Neljä digitaalituloa – USB, SACD-DIN, optinen ja koaksiaalinen. 32-bittiset DA-muuntimet 384kHz näytteenottotaajuudella. Mm.DSD64, DSD128 ja DSD256.Roon Tested – yhteesopiva Roon ohjauksen kanssa.
Kaksi analogituloa, XLR ja RCA. Tehomittarit. Autoformer-kytkennän avulla optimoitu ulostulo eri kuulokekuormille, 8-40ohm , 40-150ohm ja 150-600ohm.
The MHA150 Headphone Amplifier is a worthy successor to the critically-acclaimed MHA100. The MHA150 contains the same feature set and performance standards but adds our new 2nd generation digital-to-analog converter (DAC) that provides support for DSD and DXD files to give you access to the latest in digital music.
Like the MHA100, the MHA150 continues to take advantage of unique McIntosh technologies to create the best possible personal listening experience regardless of the headphones you use. Our Autoformer™ technology found in our large mono and stereo amplifiers has been adapted to produce three headphone impedance ranges of 8-40, 40-150 and 150-600 Ohms so that every headphone will receive the legendary McIntosh sound quality and performance.
For enjoying DSD and DXD files, the USB input accepts PCM signals up to 32-bit/384kHz and supports DSD64, DSD128 and DSD256 along with DXD 352.8kHz and DXD 384kHz. Our proprietary MCT input has also been added to the MHA150; when paired with the MCT80 SACD/CD Transport, it offers a secure DSD connection for playback of the high definition audio on SACDs.
For connecting digital devices, an optical and coaxial input are included along with the USB and MCT inputs; two analog inputs are also available. Headphone Crossfeed Director (HXD®) brings added dimension to your music in a natural sounding way but can be turned off depending on your preferences. The MHA150 is smaller than our other amplifiers, giving you additional flexibility to locate it almost anywhere in your space. It's the same width as the MB50 Streaming Audio Player and the two can be combined to start building a complete system.
The MHA150 is powerful and versatile enough to drive a pair of quality desktop or small bookshelf speakers via its 50 Watt stereo speaker outputs. Our patented Power Guard® technology is included and will prevent clipping that could damage your headphones or speakers. A 5 step Bass Boost Control allows for further sound customization. The entire unit is housed in a beautiful polished stainless steel chassis that not only compliments the classic glass front panel, knobs and brushed aluminum end caps, but virtually any room decor.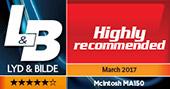 " Highly recommended "  LYD & BILDE (March 2017)