Valmistajan 50-vuotistaipaleen kunniaksi tehty NAD C3050-vahvistin on uutta tekniikkaa retrohenkisessä ulkoasussa sisällään pitävä stereovahvistin.
Design lainattu 1970-luvulta – tekniikka ja ominaisuudet tätä päivää.
HybridDigital UcD-vahvistintekniikka, teho 2x100W 8ohm jatkuva, Dynaaminen teho 2x250W 4ohm.
Digitaaliset tuloliitännät HDMI eARC, optinen ja koaksiaalinen. Phono MM-levysoitintulo MM- ja high out MC-äänirasioille. Subwoofer-lähtö. Analoginen linjatulo. Kuulokevahvistin, liitäntä kuulokkeille etupaneelissa. Kaiutinliitännät kahdelle kaiutinparille. Kauko-ohjain ja mikrofoni Dirac Live-korjainta varten.
MDC2 BluOS-D moduli lisävarusteena (ei näy takapaneelin tuotekuvassa). MDC2 BluOS-D pitää sisällään striimauksen, Dirac Live-huonekorjaimen ja monihuonemahdollisuudet yhdessä NAD:n ja Bluesoundin verkkosoittimien ja Bluesound-kaiuttimien kanssa.
BluOS tarjoaa mm. TIDAL Connect-, Qobuz-, Spotify Connect- ja AirPlay2-ominaisuudet. Internet radio. Bluetooth aptX HD vastaanotto ja lähetys esim.Bluetooth-kuulokkeille.
Features & Details
• Retro design elements include satin walnut case, front-panel VU meters, push-button input controls, 1970s   cursive branding, and dark grey front panel
• Limited-edition release: only 1,972 units will be produced, each of them individually numbered
• HybridDigital UcD Amplifier
• Continuous Power: 100 Watts per channel into 8/4 ohms
• Instantaneous Power: 135 Watts per channel
• Vanishingly low harmonic and intermodulation distortion
• MDC2 port for expanded functionality
• Pre-installed MDC2 BluOS-D module adds BluOS Hi-Res multi-room music streaming and Dirac Live room correction
• MDC2 BluOS-D module provides access to more than 20 streaming services, including several that offer lossless and high-resolution audio
• Support for Apple AirPlay 2, Spotify Connect, and Tidal Connect
• Voice control via Amazon Alexa, Google Assistant, or Apple Siri
• High-performance 32-bit/384kHz Texas Instruments differential DAC
• Ultra-low-noise MM phono stage with infrasonic filtering circuitry
• One optical, one coaxial digital input
• HDMI-eARC input
• One set of line-level analogue inputs with low-noise buffer amplifiers
• Speaker A/Speaker B outputs
• Two-way Qualcomm aptX HD Bluetooth
• Subwoofer output
• Dedicated headphone amplifier
• Supplied accessories include an IR remote control and a calibrated microphone for Dirac Live setup
• CI-Friendly – IR remote, 12V Trigger out, IR in
• Seamless integrations with smarthome control systems such as Control4, Crestron, RTI, URC, Push, Lutron, iPort, and Elan

" Preis/Leistung: Uberragend "  STEREO (3/2023)


" Highly commended "  HI-FI NEWS (April 2023)

" Nicely appointed, cool looking, great sounding, what else could it be but a NAD? "  The Absolute Sounds (Sep 2023)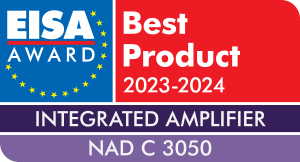 Ulkoisesti C 3050 on kunnianosoitus NADin varhaisemmille malleille uskollisesti toteutetulla vintage-tyylillään, mutta kaikilta muilta osin kyseessä on täysin nykyaikainen integroitu vahvistin kaikki-hoituu-ydinajatuksella. Nimellisteho 2 x 100 wattia tulee d-luokan vahvistuksen kautta, ja liitännät sisältävät hdmi earc:in, erillisen mm-phono-tulon ja paljon muuta. Ja kun liität NADiin valinnaisen BluOS-D-kortin, toiminnallisuus laajenee suoratoistovaihtoehtoihin (mukaan lukien sovellusohjaus ja monihuoneominaisuudet) sekä Dirac-huonekalibrointiin. Samalla kun huomispäivän tekninen toteutus tarjoaa vaikuttavaa äänenlaatua, voit ihailla C 3050:n etumaskin suuria vu-mittareita. Sisäinen ja ulkoinen toteutus siis vakuuttavat!