NAD M10 BluOS Streaming on NAD:n huippu-uutuus. Masters-sarjan pienokainen on ladattu täyteen huipputekniikkaa järeän vahvistimen seuraksi.
NAD M10 Streaming on BluOS striimaava vahvistin – mm.TIDAL, Qobuz, Spotify, internetradio-palvelut, ammattitason Dirac Live-huonekorjain, suuri TFT kosketusnäyttö, 2-suuntainen Bluetooth aptX HD, Hybrid Digital nCor -vahvistin, AirPlay2, HDMI ARC, pre out-ulostulot aktiivikaiuttimille tai päätevahvistimelle ym.
Malli kpl hyllystä specialhintaan 2290€, takuu 24kk
– HybridDigital nCore Amplifier
– Continuous Power: 100W into 8/4 Ohms (mitatut tehot STEREOPLAY/Saksa 150/276W 8/4ohm)
– Dynamic Power: 160W into 8 Ohms, 300W into 4 Ohms
– 32-BIT/384kHz ESS Sabre DAC
– 1GHz ARM® CORTEX A9 Processor
– Dirac Live Room Correction*
– Color TFT display with Proximity Sensor
– Supports Amazon Alexa Voice Control Skills
– AirPlay 2 Integration*
– Supports Siri Voice Assistant via AirPlay 2
– Two-way Qualcomm aptX HD Bluetooth
– BluOS multi-room compatible
– Gigabit Ethernet
– HDMI eARC, USB Type A Input
– Stereo Line Inputs, Coax/Optical Inputs
– Preamp Output, Subwoofer Output
– IR Input, 12V Trigger Out
– Apps for iOS, Android, Mac OS, Windows, Crestron, Control4, RTI, URC, Elan, Lutron, iPort
– Wide variety of premium music services supported in App, including Amazon, Spotify, Tidal, TuneIn, Napster, Deezer, Qobuz and many others…
EISA-VOITTAJA 2019-2020
EISA-raadin yhteenveto;
"Ot­ti ai­kan­sa en­nen kuin NAD hyp­pä­si all in one -tyyp­pis­ten verk­ko­mu­siik­ki­rat­kai­su­jen kelk­kaan, mut­ta M10 osoit­taa, et­tä hy­vää kan­nat­ti to­ti­ses­ti odot­taa, sil­lä tämä il­mi­ö­mäi­nen pie­ni vah­vis­tin on kai­ut­ti­mia vail­le val­mis mu­siik­ki­kes­kus. Ko­mea ja le­veä kos­ke­tus­näyt­tö ker­too pait­si lait­teen laa­dus­ta mut­ta mah­dol­lis­taa myös pää­syn M10:n kaik­kiin omi­nai­suuk­siin. Nii­hin lu­keu­tu­vat suo­ra­tois­to­pal­ve­lut BluOS-mo­ni­huo­ne­jär­jes­tel­män tu­el­la Blu­e­sound-tuot­teil­le, blu­e­tooth ja AirP­lay 2, di­gi­taa­li­set ja ana­lo­gi­set tu­lot, hdmi-arc te­le­vi­si­ol­le ja vie­lä Di­rac Live -huo­ne­kor­jaus ää­nen op­ti­moin­tiin. So­ke­ri­na poh­jal­la, NAD:n Hyb­rid­Di­gi­tal-vah­vis­tin­tek­no­lo­gia pi­tää huo­len sii­tä, et­tä M10:n kans­sa voi käyt­tää mil­tei mitä ta­han­sa kai­ut­ti­mia. Ky­sees­sä on mo­der­nin mu­sii­kin­tois­ton to­del­li­nen mes­ta­ri."
BluOS MAKES THE M10 SOMETHING SPECIAL
Coming Soon – BluOS is the most advanced network streaming and multi-room operating system available. Part of a growing ecosystem of compatible products, BluOS tightly integrates hardware and software for an unbeatable user experience. The only wireless high-resolution multi-room system available today, BluOS supports the new standard for high res streaming, Master Quality Authenticated (MQA). With support for over 15 free and paid subscription services, as well as supporting locally stored music libraries, BluOS makes the M10 incredibly versatile. Adding additional rooms is easy and affordable using Bluesound's all-in-one speakers, or you can add premium components from NAD, Dali, and others to provide amazing sound throughout your home.
UNDERSTATED ELEGANCE
With Industrial Design by award winning design firm DF-ID, the M10 takes a minimalist theme to new levels of elegance. The slender proportions are enhanced by authentic materials including solid brushed aluminum and smooth glass. Completely operable by Wi-Fi connection to the BluOS App, one need never touch the M10 in order to listen to your favourite songs. As you approach the M10, the high-resolution touch screen beckons as the graphic changes from 'now playing' to 'control panel' allowing many operations directly from the front panel without opening an app. It also shows what's currently playing and what is coming up next in the play queue.
UNMATCHED PERFORMANCE
The M10 uses NAD's most sophisticated Masters Series technology to create a sonic performance that is second to none. HybridDigital amplification featuring the remarkable Hypex nCore amplification stage offers state-of-the-art performance along with the ability to drive any loudspeaker. Highly efficient and remarkably powerful, the M10 can render even the subtlest of musical details with vivid realism. Effortless dynamics and a complete absence of electronic noise are hallmarks of this advanced technology.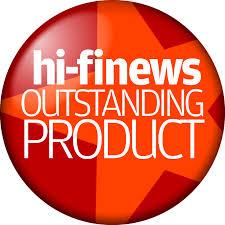 " Outsatanding Product "  HI-FI NEWS ( June 2019)

" Highlight, Preis/Leistung:Uberragend "  STEREOPLAY (7/2019)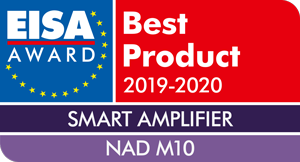 " EISA-voittaja 2019-2020 "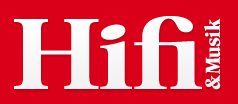 " Liten… – Men ack så god! "  HIFI & MUSIK (11/2019)

" The relatively affordable M10 offers everything serious audiophiles and music lovers need to enjoy their music. "  STEREOPHILE (Jan 2020)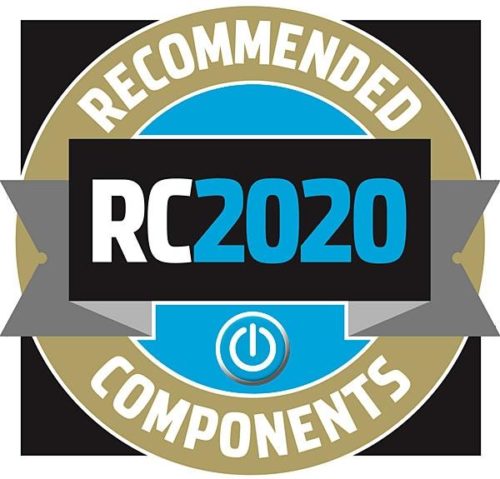 " Recommended Components 2020 "  STEREOPHILE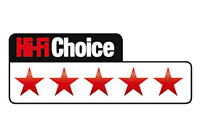 " With it's super flexibility, powerful amplifier design, big front panel touchscreen and impressive BluOS platform, this is a stylish offering. "  HI-FI CHOICE