Moon 390 on high end-tason ratkaisu vaativalle musiikinnälkäiselle kuuntelijalle.
Etuvahvistin, jossa yhdistyvät DAC/etuvahvistin/kuulokevahvistin/levysoitinaste/verkkostriimeri. Lisää päätevahvistin tai aktiivikaiuttimet.
Laadukas etuvahvistin, runsaasti analogisia sisääntuloja. Seuranaan DAC, mukana monipuolisten tuloliitäntöjen lisäksi mm.MQA ja DSD. Roon Ready. Moonin uusi MiND2-striimaus. Tuki mm.TIDAL-, Deezer- ja Qobuz-musikkipalveluille. HDMI-sisääntulot ja -lähtö. Vinyylilevyjen ystävälle erittäin laadukas MM/MC-tulo erityyppisille äänirasioille. OLED-näyttö. Kauko-ohjain.
Viimeistelyt musta ja twin-tone eli musta hopeisilla reunaetulevyillä. Tehdastilauksena myös kokonaan hopea, kysy myymälästä.
Design features
ROON Ready device
Tidal Masters, Deezer Hi-Fi and Qobuz Sublime + Music Services
MQA and DSD decoding
Stream local source to other zones
Menu-configurable MM/MC phono stage
High End ESS DAC PRO chipset
Up to 32-bits / 384 kHz sampling rate (USB)
Multi-room synchronized playback
HDMI 2.0 switcher (4k, HDCP 2.2)
OLED screen
MHP (MOON Hybrid Power – Universal Power Supply)
The gateway to great sound
The MOON 390 Network Player / Preamplifier offers a complete high-end listening solution. Featuring a DAC, preamplifier headphone amplifier, phono stage and network streaming capability, it is a truly flexible music system. Simply connect it to a power amplifier or active loudspeakers to hear an exceptional audio performance.
MiND 2 streaming module
MiND 2 (Moon Intelligent Network Device) is a fabulous way of streaming and listening to your music. MiND 2 allows the playback of all the most common file formats, including DSD and MQA (via local files and TIDAL Master files). The MiND2 also boasts a USB host port, permitting access to music on USB thumb drives. Finally, MiND 2 will also stream any digital or analog input of the 390 to other MiND 2 zones on the same network.
High-resolution audio streaming experience
The MOON 390 Network Player / Preamplifier is designed to deliver an outstanding high-resolution streaming experience through music services such as Tidal Masters, Qobuz Sublime+ and Deezer Hi-Fi. The DAC architecture supports PCM (up to 32-bit/384kHz), DSD (up to DSD256) and is MQA certified. It is also Roon Ready and has Bluetooth aptX connectivity.
Combination of successful products for audiophile
Simaudio has built upon its heritage of outstanding audio products by combining the functionality of the award-winning MOON 350P preamplifier and MOON 380D DAC  with the latest high-end streaming architecture to create the MOON 390 Network Player / Preamplifier. With a host of analog and digital connection possibilities, no matter how you play your music, the MOON 390 will reveal astonishing levels of detail.

" Highly recommended "  TONE Audio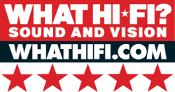 " It's possible to build a superb system around this Moon.  Sound: 5 stars – Features: 5 stars – Build: 5 stars. Overall: 5 stars "  WHAT HI-FI (Feb 2019)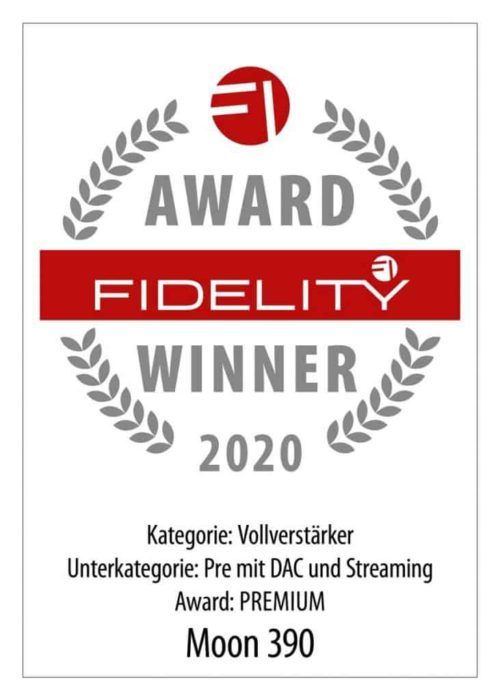 " Award Winner 2020 "  Fidelity-Online, Saksa

" Highlight, Preis/Leistung: Uberragend "  STEREOPLAY (6/2020)