Totem-aktiivikaiutin. Tarjoaa hintaluokassaan äänenlaatua, jonka vain Totem osaa toteuttaa.
Langaton Bluetooth aptX HD-vastaanotto. Optinen äänitulo esim.TV:n kytkemiseksi 24-bit/192kHz:n näyteeottotaajuudella. RCA-tulo valittavissa Phono- tai linjatuloksi. 3,5mm tuloliitäntä. Subwoofer out-liitäntä. Vahvistinteho 2 x 120W RMS. Laaja toistoalue 39-30000Hz. Mukana optinen- ja 3,5mm:n analogikaapeli ja laadukas kaiutinkaapeli banaaniliittimien kera kaiuttimien välille.
Tyylikäs, metallinen kauko-ohjain. Käyttö myös kaiuttimesta yhdellä nupilla.
Viimeistelyt satiinimusta ja satiinivalkoinen. Mukana värin mukaiset etukankaat magneettikiinnityksellä.
Hinta/pari.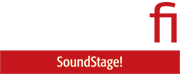 KIN Play comes out on Top. Killer little system.
"They were won over by the Kin Plays' dynamic excitement and big, spacious sound."
"The fact that the Totems incorporate a phono stage was a bonus, because that meant we wouldn't have to look for a turntable with built-in phono preamp."
*Not only are Totem Acoustic's Kin Plays easy to set up and use, they delivered amazing sound for their asking price. Per Vince Bruzzese's claim, the Kin play is every cubic inch a Totem, with the speed, articulation, and spacious sound for which the brand is famous. Given the huge soundstages they threw, I don't think it's a stretch to call them "spatially outrageous." In short, the Kin Plays are a wonderful way for music lovers to discover -or rediscover- the joys of high fidelity. Add a source component, and you've got a killer little stereo system. *
Pushing the clear boundaries of physics.
*The KIN Play delivers a surprisingly lively and dynamic impression, one you would hardly have expected due to the handy dimensions of the small active monitor…pushing the clear boundaries of physics, playing very deep and clear, even at maximum volume. Playing voices and acoustic instruments may be the active speaker's greatest skill, creating them with very natural properties. Sounds expressive in all levels and tones; the spatial information of is reproduced startlingly realistically from the KIN Play. Be it music from a cd player, streamer, smartphone, Tablet PC or even turntable: The KIN Play pleases with balanced sound, the finest workmanship, and simplicity. *  HI-FI LAUTSPRECHER, Saksa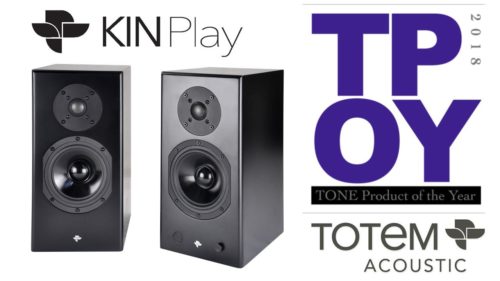 " Product of the year 2018 "
"You can always count on Totem for top quality speakers that deliver great sound and build quality in every price category. We loved their Kin Mini's when they were here for a test drive a while back, but the new KIN Play is a new product aimed at a new audience. With a built in DAC and an MM Phone stage, you can start playing music now, and add a turntable (or tape deck!!) another day. Thanks to Bluetooth aptx HD, streaming from your phone or a pad has never been better. There's even a subwoofer out, for those feeling the need to add a Totem subwoofer to their system." Tone Audio, January 2019

" Totem KIN Play kuulostaa kokoistaan selvästi isommalta. Yllätyksenä ei tullut, että pieni kaiutin loihti luvattoman suuren äänen. Seikka, josta herra Bruzzese ei tunnu tinkivän edes malliston edullisemmassa päässä. Avoin ja innostava ääni. Päivittäisessä kuuntelussa Totem on helppokäyttöinen. " Jussi Arvio / HIFIMAAILMA (6/2019)