Nordost Heimdall 2 Digital on laadukas kaapeli herkän digitaalisignaalin kuljettamiseen. FEP-eristys ja Dual Mono-Filament rakenne. Solid core-säikeet hopeoituna. True 75ohm-rakenne BNC-liittimin, RCA-adapterit mukana. Myös 110ohm AES-EBU-versiona XLR-liittimin. Hinta sama.
Hinta 1,0m pituiselle. Saatavana tehdastilauksena myös 1,5m-2,0m-2,5m-3,0m-3,5m-4,0m mittaisina, toim.aika 3-4 viikkoa. +220€/0,5m
Digital data transfer demands precise impedance matching in both cable and connectors. Manufactured entirely in the USA, the Heimdall 2 S/PDIF and AES/EBU cables are optimized for digital signal transfer and use a silver-plated OFC solid core conductor suspended in our proprietary, precision Dual Mono-Filament construction. In the S/PIDF cable, this technology is combined with combination BNC/RCA connectors, providing a true 75 Ohm signal path which answers the demand for the precise tolerance needed for clocking and dealing with digital output. Whereas the AES/EBU cable is constructed with impedance matched XLR connectors, providing a true 110 Ohm signal path for digital data which results in clearly audible sonic and musical benefits. The result is an ultra high-speed, low-loss cable specifically designed to deliver the best possible performance from today's high-resolution digital audio sources. They may only be "ones" and "zeros" but poor impedance matching has a dramatic impact on the accuracy with which they are passed from one electronic device to another. Nordost's ultra-close tolerance digital transfer solutions deliver the goods, sonically and musically.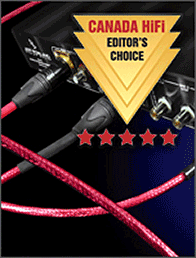 UPGRADING AN AUDIO SYSTEM WITH NORDOST NORSE 2 HEIMDALL 2 CABLES 
Editor's Choice  –  5 stars
"Just take my word for it, I'm awestruck! In all respects, from transparency, tonality, low noise, detail, imagery, focus, coherency, timing and musical engagement, I've experienced no better to date."
— George de Sa, NOVO