Maailman toiseksi paras DAC. Edellä vain paras mitä rahalla saa – MSB The Select DAC. Nyt vakiovarusteena huippuluokan Femto 33-kello ja Reference Powerbase.
Huipputuote pitää sisällään MSB:n uutta Hybrid DAC-teknologiaa. Ainutlaatuinen modulirakenne mahdollistaa lisäykset, vaihdot ja päivitykset vielä vuosienkin päästä. Vakiovarusteena optical/coaxial-sisäänmenomoduli ja äänenvoimakkuus-ominaisuudella ryyditetty Base Output Module (valittavissa XLR- tai RCA-versiona), Femto 33-kello, Reference PowerBase-virtalähde ja alumiininen kauko-ohjain. Hopea ja musta. Lisähintaan ja pidemmällä toimitusajalla myös muut viimeistelyt, esim. champagne.
The Reference DAC is equipped with MSB's new Hybrid DAC technology.  Originated in the Select DAC, we've pushed the technology further, making it more compact and robust and above all – affordable.  Unlike the Select's eight-module design, the Reference DAC only needs four modules to anchor eight high-powered channels for an unrivaled output.  The Hybrid module can be reconfigured to accommodate PCM or native DSD, ensuring it's the most dynamic DAC on the market.
Smooth chassis lines. Few controls. Focused modularity. High-end quality. As we set out to create a new level of digital-to-analog conversion, our design statement ensured the best usability and quality. The resulting product has set a new, previously undiscovered reference in the listening experience.
Be Bold. MSB will provide custom finishes upon request to ensure your vision is realized. As a result, each DAC is unique, singular, an unparalleled.
Designed with an easy-to-read display, our discrete LED installation is both stunning and practical. Our display is big enough that you can stay seated in your chair. No standing necessary – sit back and become immersed.
Designed in-house from the ground up, the display is assembled in its own CNC pocket in the uni-body, separate from the DAC. Along with targeted electrical isolation, the LED display is refreshed in between data points to reduce noise interference.
You can't underestimate the importance of a clean power supply. A re-imagined design paired with the DAC reduces the noise floor even further. We've equipped the DAC with a single supply for the digital side of the DAC, along with an isolated supply for the analog side, yielding an unprecedented level of performace.
Our modular design encourages innovation. The DAC modules, clock, input and output modules are all user-replaceable. As these technologies change, we'll update your DAC to keep it current and operational.
MSB is constantly developing new input modules for every application and technology.  With the release of MQA, MSB has prepared a new module and a streamlined software update. This augments your DAC with the most up to date technologies.  Put simply, your DAC is ready for the future.
Upgrading from the Base Output Module will give you a cutting edge constant impedance passive volume control preamp.  Using this remarkable preamp will reduce system complexity and ultimately improve the audio quality of your entire system.  It's a remarkable feat of electrical design that sets a new benchmark in the industry. The output modules are individually tuned for maximum quality balance or single-ended audio.
Even without the upgraded preamp module, the DAC still has built in volume control.
With sideways expansion, the preamp can accommodate additional analog inputs, isolated sub outputs, and extra analog outputs.
Starting with an 65lb plate of 'Kaiser Select Precision Plate', material is machined in our own in-house CNC shop. After more than four hours of machining, 60% of the aluminum is removed, resulting in a 18lb finished product. The integration of our CNC shop allows for design optimization to create the best possible product. We use the high quality premium 'Select' metal, giving us the best anodized finishes on the market.
Available in matte silver and matte black. Custom finishes are available upon request.  Our popular custom gold finish is a light matte anodized gold with plated gold accents.
Upgraded with two dedicated power supplies, we provide increased isolation and electrical performance for both the digital and the analog power. With the increased space, each Mono Powerbase possesses a much lower electrical noise design.

" The Reference DAC's level of clarity is kind of magical. The Reference DAC and Transport have set a new standard of realism from digital sources. The guy who railed against digital is now listening happily to same. "  Jonathan Valin / THE ABSOLUTE SOUND (Jan 2019)
" Overall Product Of The Year 2018 "  THE ABSOLUTE SOUND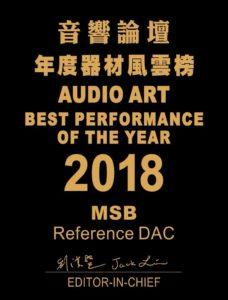 " Best Performance Of The Year 2018 "  Audio Art

" I've never heard Magico sing this sweetly from a digital ring. "(MSB Reference DAC)
" I don't think of myself as a digital guy, but the MSB Ref Series digital seps produced sound so sweet I'm starting to dream in ones and zeros."
Neil Gader / The Absolute Sound RMAF 2018 Show Report