McIntoshin uuden sukupolven prosessori & etuvahvistin jatkaa kuuluisien edeltäjiensä perinteitä keskuslaitteena, jonka äänen- ja kuvanlaatu hakee vertaistaan.
8K-aikaudelle yhteensopivat kuvaprosessointi ja -läpivientimahdollisuudet. Erittäin monipuoliset liitäntämahdollisuudet, mm. XLR-ulostulot kaikille 13.2-kanavalle, huima määrä HDMI-liitäntöjä ym.
Kauko-ohjain. Creston4-yhteensopivuus.
The MX123 A/V Processor marries a long tradition of uncompromising McIntosh sound quality with the latest home theater technologies to bring you an unsurpassed luxury home entertainment experience. As of September 2021, the MX123 supports 8K/60Hz and 4K/120Hz resolutions and refresh rates. It can also upscale lower resolutions to 8K to produce the best possible picture quality.
To satisfy the video needs of your home cinema, the MX123 has 7 HDMI inputs and 3 HDMI outputs. All HDMI inputs and outputs support HDCP 2.3; Rec. 2020; 4:4:4 color spacing; Dynamic Lip-sync; and 3D Video pass-through. To create the most life-like and realistic picture possible, all MX123 HDMI ports support a myriad of high dynamic range formats: HDR (static HDR); Dynamic HDR; HDR10+; HLG; and Dolby Vision (including low latency). These technologies will ensure every moment of a video is displayed at its ideal values for depth, detail, brightness, contrast, and color – on a scene-by-scene or even a frame-by-frame basis.
The MX123 is also fully compatible with all the leading home theater surround sound and object-based 3D audio formats such as Dolby® Atmos (including Dolby Atmos Height Virtualizer); DTS:X® Pro; Auro-3D®; Sony's 360 Reality Audio, an immersive audio experience utilizing Sony's spatial sound technology; and MPEG-H Audio. MPEG-H Audio, primarily developed by Fraunhofer IIS, is an open ISO standard and the industry's most advanced audio system for UHD-TV and streaming. It supports both immersive sound and the ability for users to adjust elements in the audio to their preferences. MPEG-H has been on the air since 2017 on all TV networks in South Korea under the ATSC 3.0 standard. It was also selected for new broadcast standards to be launched in Europe, China and Brazil.
Audio Return Channel (ARC) and Enhanced Audio Return Channel (eARC) functionality is included on 1 of the HDMI outputs. ARC allows a compatible TV to send audio data to the audio video processor over the HDMI cable, eliminating the need for separate audio cables. The more advanced eARC offers greater bandwidth so higher resolution audio formats such as DTS-HD Master Audio™, DTS:X®, Dolby TrueHD, and Dolby Atmos can be sent through the HDMI cable.2
The MX123 features upgraded digital audio processing capabilities that results in 2 more discrete audio channels, bringing the MX123 to 13.2 discrete audio channels compared to 11.2 in the previous model. These 13.2 discrete channels are available via both balanced and unbalanced audio outputs that can be used in a variety of home theater speaker configurations; 2 additional unbalanced outputs offer further connection flexibility. DSD and ALAC playback support have been doubled to DSD128 and ALAC 192kHz for better high resolution audio performance.
Additional connections include: 4 digital audio inputs; 1 balanced and 8 unbalanced analog stereo audio inputs (including 1 dedicated as a Moving Magnet phono input to connect a turntable); an unbalanced 7.1 multi-channel audio input; 3 component and 4 composite video inputs; 1 USB Type A input; 2 unbalanced analog stereo outputs; 2 composite video outputs; and 1 component video output.
The MX123 is IMAX® Enhanced compatible. IMAX Enhanced is a set of stringent performance standards established by IMAX and DTS® to create a consistent and higher bar for image and sound performance on premium devices. It utilizes a sophisticated, advanced algorithm designed to produce the highest-quality, sharpest 4K HDR images. IMAX and DTS will also partner with award-winning Hollywood sound mixers to use a special variant of the DTS:X codec technology included in the MX123 to deliver an IMAX signature sound experience in your home theater.
The MX123 has received Connects with Control4 Certification from Control4®, a leading global provider of smart home automation solutions, with the implementation of their Simple Device Discovery Protocol (SDDP), allowing it to be effortlessly integrated into Control4 automation systems to further enhance the user experience. It has also received Works with Crestron Home certification from Crestron, a global leader in advanced smart home technology. Crestron Home unlocks the full potential of a smart home. It's the complete package for any size project, delivering a simpler, smarter user experience for homeowners, remarkably fast configuration and deployment for integrators, and the confidence that comes with renowned, best-in-class Crestron control hardware.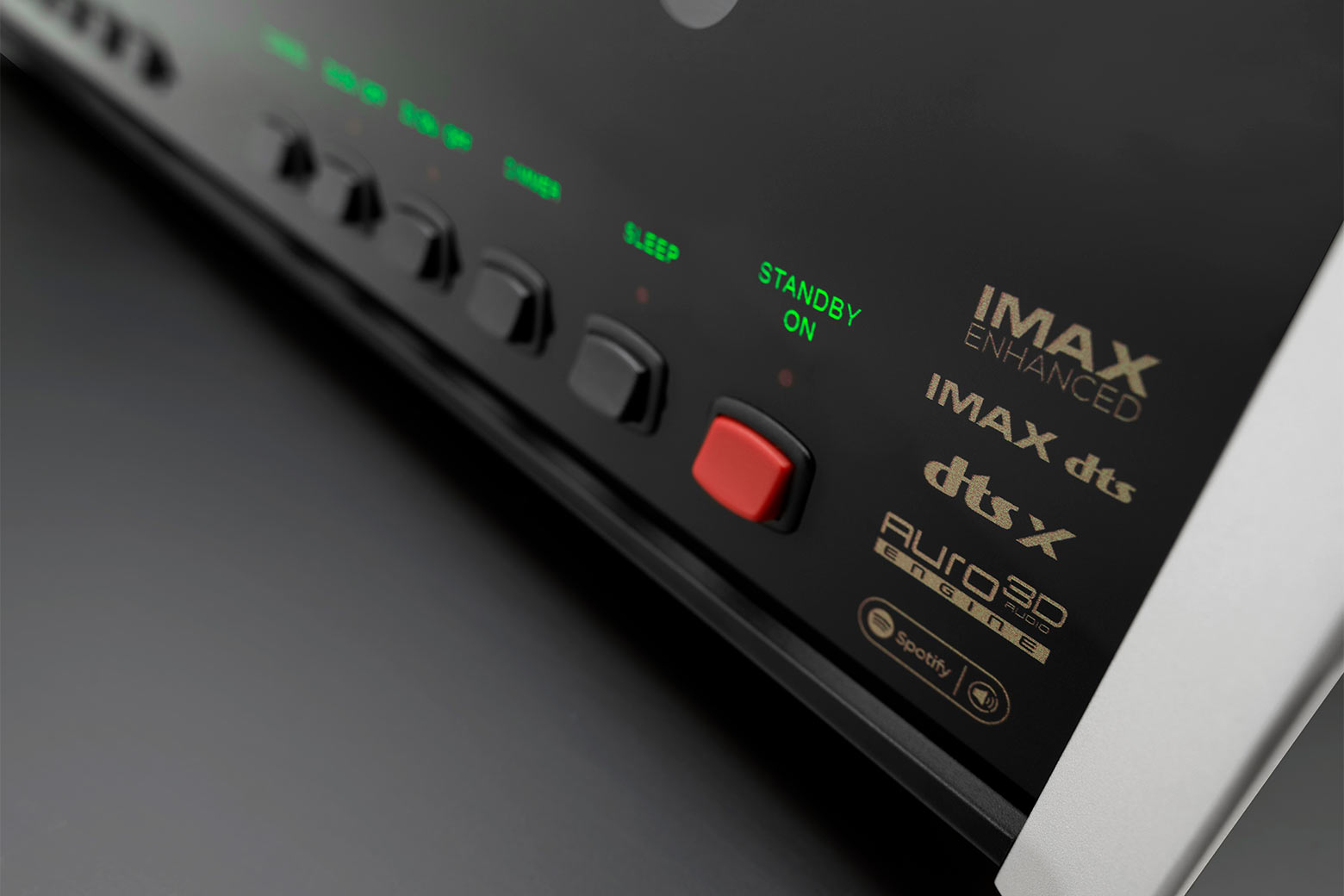 Music streaming options3 on the MX123 includes Apple® AirPlay 2® along with Bluetooth® and Spotify® Connect for easy streaming from your mobile devices. AirPlay 2 is an Apple technology designed to control home audio systems and speakers in any room – with a tap or by just asking Siri – right from an iPhone®, iPad®, HomePod™, or Apple TV®. It offers multiroom audio, Siri voice control, and enhanced playback. TuneIn is also included for further music streaming options – including McIntosh Music. To assist with wireless streaming performance and reliability, it includes 2.4/5GHz dual band support. An ethernet port that lets you make a hardwired connection to your network is also included to aid in producing the best possible music streaming experience.
10 HDMI ports: 4K/60Hz; HDCP 2.3; Rec. 2020; 4:4:4 color spacing; Dynamic Lip-sync
8K/60Hz & 4K/120Hz on 1 HDMI input & 2 HDMI outputs
HDR (static HDR); Dynamic HDR; HDR10+; HLG; Dolby Vision
Quick Media Switching; Auto Low Latency Mode; Quick Frame Transport; Variable Refresh Rate
13.2 Audio Channels; eARC/ARC; Apple AirPlay 2; Bluetooth; Spotify Connect
Dolby Atmos; DTS:X Pro; Auro-3D; IMAX Enhanced; 360 Reality Audio; MPEG-H Audio
Connects with Control4 Certification; Works with Crestron Home Certification
Audyssey MultEQ XT32