Sky-perheen lattiakaiutinuutuus. Kuten pikkuveljensä Sky, tarjoaa Sky Tower uskottavan bassotoiston, ison äänikuvan, hallitun vaihekäyttäytymisen ja taspainoisen sointibalanssin. Ja kaikki tämä vahvistinystävällisesti, 8ohm impedanssi ja 88dB/W herkkyys helpottavat vahvistimen valintaa.
Huolella toteutettu kotelorakenne, mm.borosilikaattivaimennus ja lock mitered-pyrstöliitokset. Totemille customoidut elementit. Vakiovarusteena mustat Totem Claws-tassut.
Kolme viimeistelyä – musta, satiinivalkoinen ja mahonki.
Mallipari (satiinivalkoinen) specialhintaan 2290€
Extending the Sky family
The Sky Tower shares the same DNA that made Sky monitor such a success, like gigantic imaging, phase coherence, authoritative bass, and amplifier friendly compatibility. Remarkably, it does it all on a larger scale and with even more impact.
A customized 5.75" woofer designed for the larger enclosure gives Sky Tower the ability to descend deeper, all the way down to 36Hz. The world's only 1.3" soft dome tweeter capable of extending to 30kHz also extends low enough to contribute to the midrange band for an enchanted charm to the most critical range.
To perfect its interaction with room acoustics, Sky Tower is mass loadable while a new high density composite Claw controls resonance, tighten bass, and heighten the soundstage. Any media at any volume is presented effortlessly with smooth detail. After all, it's a Sky.
Design features
High efficiency for easy amplifier compatibility
Ultra slim design and aesthetic compactness
Extremely dynamic performance
Placement versatility
Bespoke claw sound isolation
Magnetic grills included for easy removal and longevity
Technical features
Custom designed 5.75-inch woofer with copper capped voice coil
1.3" soft dome tweeter with extreme dynamic capability
Lock-mitered artisanal craftsmanship
Industry unique Borosilicate dampening
Sensational on and off axis response
Exclusive, hard-wired crossover with large gauge air core coils

" Absolute Spitzenklasse "  STEREOPLAY (3/2018)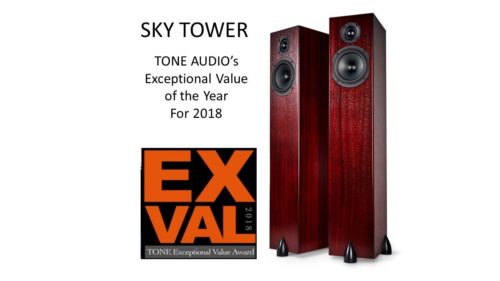 Tone Audio named it as the Exceptional Value award winner for 2018.
"Totem has always been a perennial favorite and performance leader. The Sky Tower is just plain amazing. For less than what you might spend on a pair of mini monitors and stands, you can have a pair of Sky Towers, with bigger bass, and well, bigger everything. We invite you to audition a pair."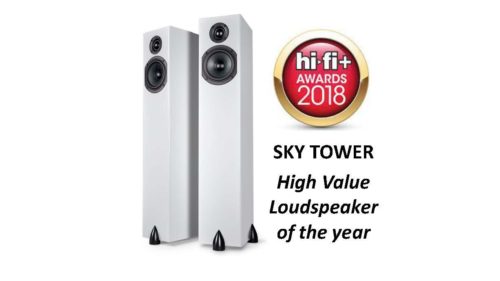 The Sky Tower was awarded the High Value Loudspeaker of the Year for 2018 by HI FI+.
"Totem's Sky Tower is one of those perfect loudspeakers. It's perfectly proportioned for a floorstanding loudspeaker, it is a two-way design (which often makes a better loudspeaker than something more elaborate) all using the company's own design right down to the feet. You can't get much better than that!"

" Editor's Choice 2020 "  HI-FI+