McIntosh:n RIAA-vahvistin vaativan vinyylinystävän laitteiston sydämeksi. Äänenlaatu ja säätömahdollisuudet, jotka hakevat vertaistaan.
Täysin balansoitu putkiasterakenne 12AX7A-putkin (2kpl per kanava). Sisääntulot RCA- ja XLR-littimin. Asetukset resistanssille 7kpl ja kapasitanssille 8 kpl. Mono-asetus. Säädettävä gain – 40-64dB. Kauko-ohjain.
The MP1100 is designed first and foremost for analog audio and achieves our most accurate equalization ever. It utilizes four 12AX7A vacuum tubes, with 2 tubes used per channel in a fully balanced configuration – making it our very first fully balanced vacuum tube phono stage. For those with multiple turntables or tonearms, there are 3 sets of RCA phono inputs; XLR connectors are also available on 1 of the inputs. All phono inputs allow for adjusting both resistance (7 settings) and capacitance (8 settings). For ease of use, it comes pre-programmed with profiles for Moving Coil and Moving Magnet cartridges as well as the McIntosh MT10 and MT5 turntables. Five additional profiles are included that are fully customizable and can be assigned to any phono input. RIAA, LP, NAB, AES and 78 analog equalization curves are included.
Two fairly rare but highly useful analog filters are built-in: a Rumble Filter helps remove noise that may have seeped into a song during the recording process; while a Scratch Filter can help restore the sound of frequently-played records that may have become a little worn, or records that may have some damage. Adjustable gain from 40dB to 64dB allows for further customization, while a Mono setting permits proper playback of mono recordings. In addition, there's a pair each of balanced and unbalanced high level inputs for connecting other sources. For connecting to the rest of your audio system, there are a pair each of balanced and unbalanced stereo outputs.
Not to completely overlook the merits of digital audio, the MP1100 has an optical, coaxial and USB output. These digital outputs are fixed at 24-bits and can be set to either 96kHz or 192kHz. When used with a properly configured conversion program, the USB output can be used to "rip" your albums to your computer. Our digital output clipping indicator will notify you when distortion caused by loud sections in a song is being recorded to the file, allowing you to adjust your settings in order to create pristine, distortion free digital versions of your albums. For pure analog use, the digital outputs can be completely disabled and powered down.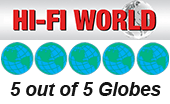 "Phono stages: I dream about them, but I never had a dream like this. The new MP1100 phono stage from McIntosh is quite unlike anything that would pop into my head in the middle of the night, but McIntosh does a lot of things differently – and also very well. Their new MP1100 phono stage… is both fascinating and impressive… a phono stage that has it all." – Hi-Fi World